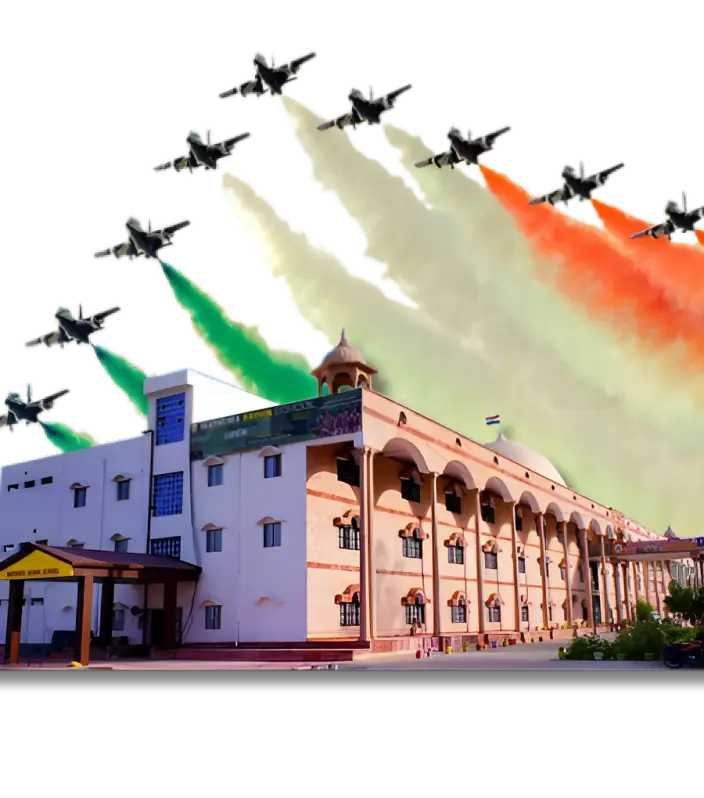 WELCOME TO
Mathura Sainik School - Nurturing Excellence, Shaping Leaders
At Mathura Sainik School , our path has been more than just a matter of time; it is a tale of dedication, self-control, and determination that spans generations. We are more than just a school; we are a legacy of learning, character development, and leadership. Our 10 acre campus is ideal for young people who are eager to learn, grow, and understand more about themselves. For students in grades IV- XII, we provide both residential and day boarding options, giving us the flexibility to accommodate each student's individual needs. Our mission is to prepare the next generation to serve their country with honour and distinction by teaching them the importance of personal responsibility, self-control, and mastery of one's skill.
The Mathura Sainik School in India has a long history, and throughout that time it has been well-recognised as a premier learning institution. We've been around for quite some time, and it's something we're really proud of since it proves that our novel approach to education works. We're happy to have nurtured so many visionary leaders who went on to make significant contributions in fields as diverse as politics, professional sports, and business.

Our objective is straightforward: to supply the best educational offerings we can. Our aim is to provide a school where students may thrive in both the classroom and outside of it. Our purpose is to foster an environment where young people can grow into responsible, compassionate, and academically successful adults.
Our mission at the Top Sainik School in India is to provide a comprehensive education that exceeds the limits of what can be taught in a traditional classroom. We want to prepare our kids for the challenges of adulthood by instilling in them values like honesty, accountability, and respect. Through rigorous academics and intensive character education, our students are equipped to become contributing members of society.

Our Values
Our core beliefs at top Sainik School in India are as follows:
Excellence: We strive for perfection in all we do, from studying and developing our personalities to gaining experience in and practising for positions of leadership.
Discipline: Discipline is a way of life at Mathura Sainik School , not just a collection of rules. We believe that discipline is essential to success in any activity.
Character Development: We place equal value on our children's intellectual and emotional growth, so we emphasise character education. Our goal is to encourage people to develop into contributing members of society.
Leadership:We believe that the ability to lead, inspire, and make a difference is an essential part of a well-rounded education, alongside the acquisition of knowledge. Students' potential for leadership is developed here.
Respect:Instilling in our students the capacity to lead, inspire, and make a difference is an essential part of what we consider a well-rounded education.

MSS Curriculum Model
Our curriculum plan displays a dedication to delivering a well-rounded education, and our school is associated with the Central Board of Secondary Education (CBSE). We adhere to the CBSE-recommended curriculum to give our children a nationally recognised and standardised education that will help them succeed in board exams. Our curriculum places a strong emphasis on critical thinking, problem-solving, and in-depth topic knowledge, with the goal of fostering academic success. Our assessment techniques include routine assessments to track student development and provide prompt assistance.
However, we prioritise holistic development because we understand that education extends beyond the classroom. A comprehensive selection of extracurricular activities, sports, arts, and cultural programmes are included in our curriculum to provide pupils with the opportunity to explore their passions, hone their talents, and improve their communication and self-confidence. Our strategy places a strong emphasis on physical fitness, and we provide organised physical education programmes that include a variety of sports and outdoor activities.
Our examination and grading procedures are in line with CBSE regulations, which highlight the importance of continual assessment to lessen the burden of preparing for exams. In order to ensure that our hardworking faculty are using the most up-to-date methods of guidance, they participate in ongoing training and professional development. We encourage open communication between home and school so that parents can be updated on their child's development and safety. Our curriculum approach at Mathura's best Sainik School in India, which is aligned with the CBSE, is designed to equip students with the information, skills, and values necessary to become successful, active members of society. Facilities at Mathura Sainik Boarding School in India: Enriching the Educational Experience
At Mathura Sainik School in India, we take great pride in the state-of-the-art facilities we have installed for the benefit of our students. Beyond the classroom, we foster a positive environment where children are free to develop in every aspect. The following is a list of our most prominent features and services: Fostering Holistic Development through
Co-curricular Activities at Mathura Sainik School
Join Our Legacy
Here at Mathura Sainik School , we'd welcome you to join in our tradition of success. We think every kid can succeed if given the chance, so we do everything we can to encourage them to shoot for the moon. Join us as we work to mould the future of our beautiful country by educating and instilling discipline in today's students.
Learn more about Mathura Sainik School and the opportunities available to your kid by exploring our website. If we work together, we can make tomorrow better. Choose Mathura Sainik School – Where Excellence Meets Character!